Get Spooky Offer for Halloween! 100% Pass IT Exam with SPOTO Dumps
access_time2020-10-23
perm_identity
Posted by
spoto
Our favorite but fright Halloween is coming soon.  You can see many stores hanging with candy, costumes, and Halloween decorations. As we know, Halloween is also a shopping season! This can only mean one thing for IT exam candidates: it's officially time to buy exam dumps with an exclusive discount!
To help you save the most money on IT dumps, SPOTO launches the Halloween Sale from Oct. 26 to 30 for all IT candidates to get an exclusive offer for all Cisco CCNA, CCNP, CCIE Lab PMP, AWS, CISA, and other IT exam Dumps.
Next, we will introduce the leading products for Halloween Sale and the SPOTO service process & advantages. Click now to get a limited time offer for 100% passing your next IT exam!

What SPOTO products enjoy exclusive offers in Halloween Sale?
The above table lists the most popular products for this sale, including Cisco CCNA, CCNP, CCIE Lab, PMI, ISACA, and other IT dumps and some proxy service! This special offer is for a limited time from Oct.26 to 30! Contact us now to get the early bird special offer! Don't miss out!

How many steps required to pass the IT exam with SPOTO?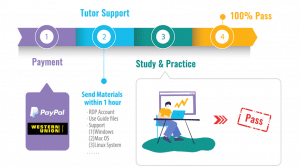 4 Steps Only!
1. Conduct payment (Secure & Fast)
2. Send study materials (within 1 hour)
3. Study & Practice (100% real exam practices & 7/24 technical support to solve problems)
4. 100% pass in 1st try!
Latest Passing Report-100% Pass Guarantee
Why Choose SPOTO?
Founded in 2003, SPOTO is an excellent leader in IT certification training for 17 years. We offer 100% real Cisco CCNA, CCNP exam dumps, CCIE Lab study materials, PMP, CISA, CISM, AWS, Palo Alto, and other IT exam dumps. We have helped thousands of candidates around the world to pass their IT exams on the first try!
As the first-class online IT training organization in China, SPOTO cooperates with many giant Internet companies in China like Tencent, Baidu, and Alibaba. What's more, we have won lots of awards in IT education training such as "Top Ten Influential Brands In Online Education Industry" given by Baidu, "Official IT Online Training Organization" awarded by Tencent Class, etc.
• 100% real exam answers and questions
• 100% pass guarantee
• Real Simulated Exam Environment
• Free update for dump stability
• Fewer questions with the highest accuracy
• Latest Passing Report Feedback
• 7/24 Technical support
• Professional Tutors Teams
In conclusion
SPOTO Halloween Sale offers a favorable price from Oct.26 to 30. Never miss such an exclusive discount; otherwise, you may cost more than regular days. If you want to pass CCNA, CCNP, CCIE Lab, PMP, CISM, CISA, and other IT exams quickly, get SPOTO& proxy service now with a good discount!

Recommend IT Exam Study Materials:
CISM Certification and Exam Frequently Asked Questions
Which one is considered to be a better course, PMP or PMI-ACP?
How to Get Cisco Certification in 1st Try: 4 Tips for Success
Weekly Update-SPOTO IT Exam Dump Info & Pass Report from Oct.13 to 18, 2020