CCIE enterprise infrastructure is Cisco's expert certification on enterprise networks. The Cisco CCIE enterprise infrastructure (v1.0) lab exam is an eight-hour hands-on test that requires candidates to plan, design, deploy, operate and optimize dual-stack solutions (IPv4 and IPv6) for complex enterprise networks. SPOTO offers 100% real CCIE EI lab exam workbooks and solutions to help you better prepare for the lab exam!
Cisco have implemented several changes in the CCNP and CCIE certification exams since February 24, 2020. In order to be certified, candidates would have to take the same core exam, and once they would have passed, they could proceed for taking the exam for their concentration or a focused area. CCIE candidates who would be choosing to concentrate on CCIE enterprise infrastructure must clear the CCIE enterprise infrastructure lab exam to obtain their badge.
Before you could take the CCIE enterprise infrastructure lab exam, you are required to pass the core exam 350-401 exam first. For the written exam, SPOTO offers valid 350-401 exam dumps that would be covering all real exam questions. You could easily pass the exam and achieve the certification in just 7 days in general.
Latest Passing Reports from SPOTO Candidates
Description

This is the material content that you need to practice. You will face them when you take the exam.
Design: Design 1
Deploy & Operate & Optimize:LAB1
Pass Your CCIE Enterprise Infrastructure Lab Exam at the First Try with SPOTO CCIE Enterprise Infrastructure Lab dumps 100% Real Exam Questions and Answers
We Offer Various Materials You to Prepare & Pass CCIE Enterprise Infrastructure Lab Exam. 100% Guarantee Passing Rate and Professional Tutors Team.
100% Real Exam Practice Tests
100% Guarantee Passing Rate
Professional Tutors Teams
100% Real Exam Environment
Latest Passing Feedbacks
17 -Year IT Training Experienc
Major Topics of CCIE Enterprise Infrastructure Lab Certified Exam
Network Infrastructure
Software Defined Infrastructure
Transport Technologies and Solutions
Infrastructure Security and Service
Infrastructure Automation and Programmability
Workbook Demo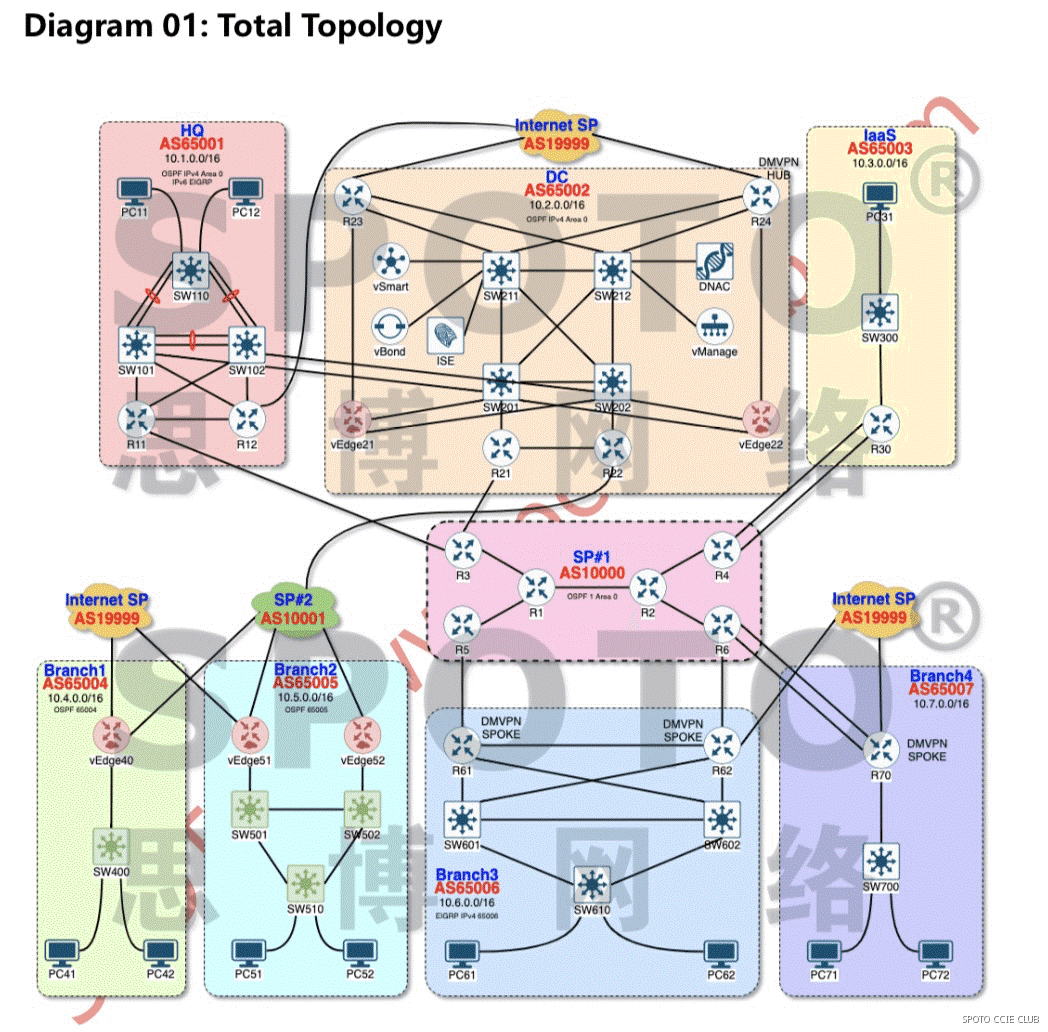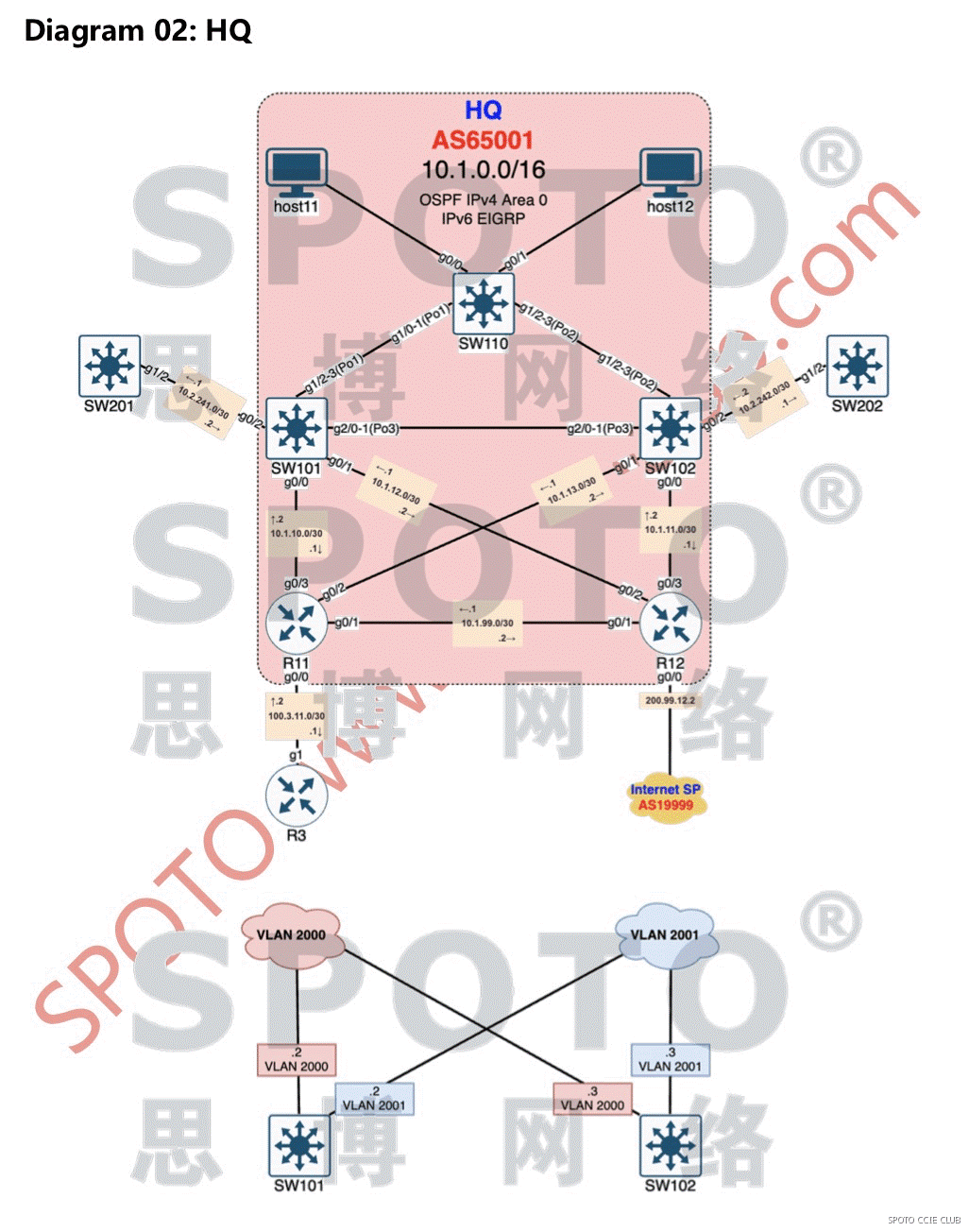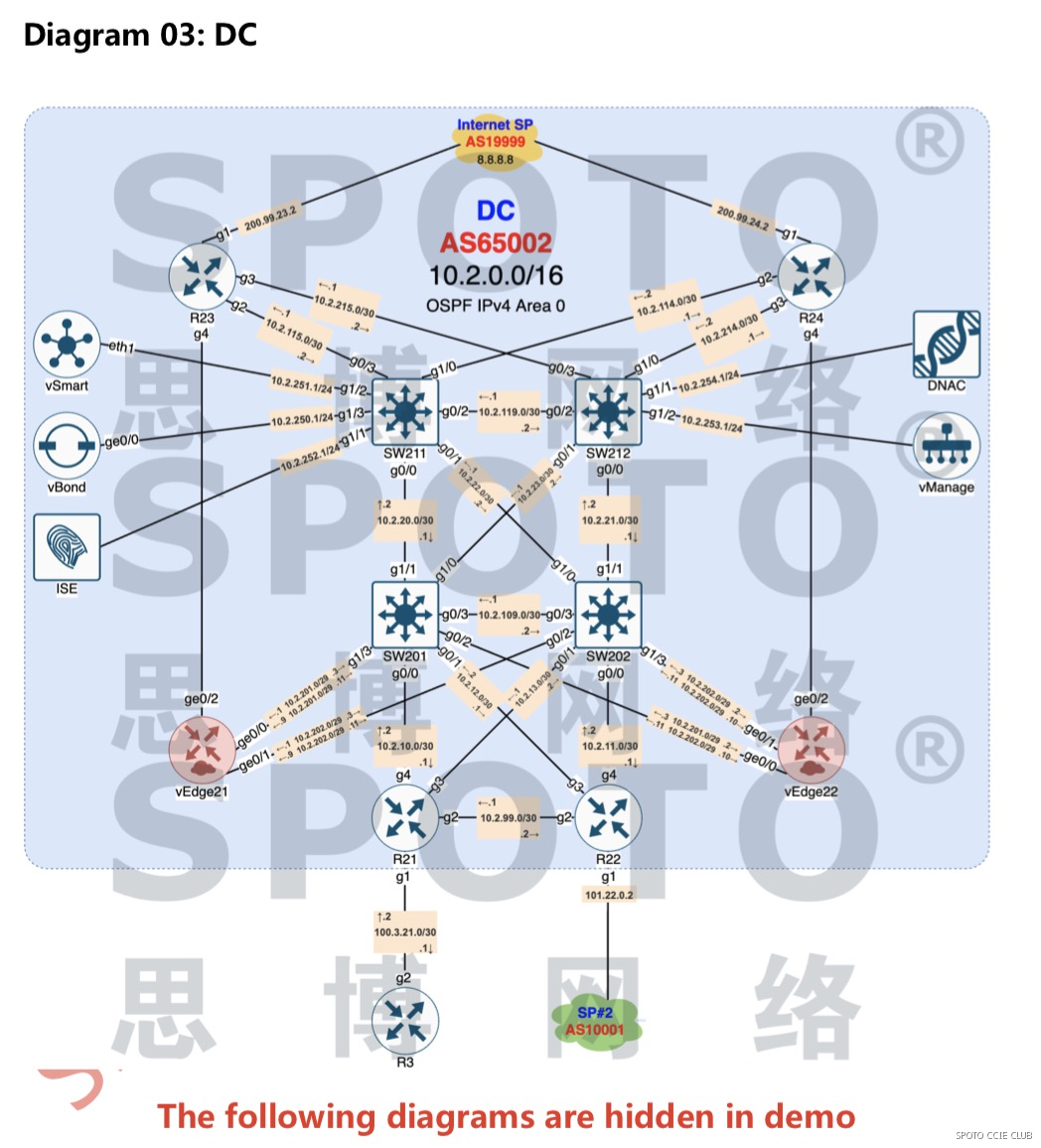 Study Plan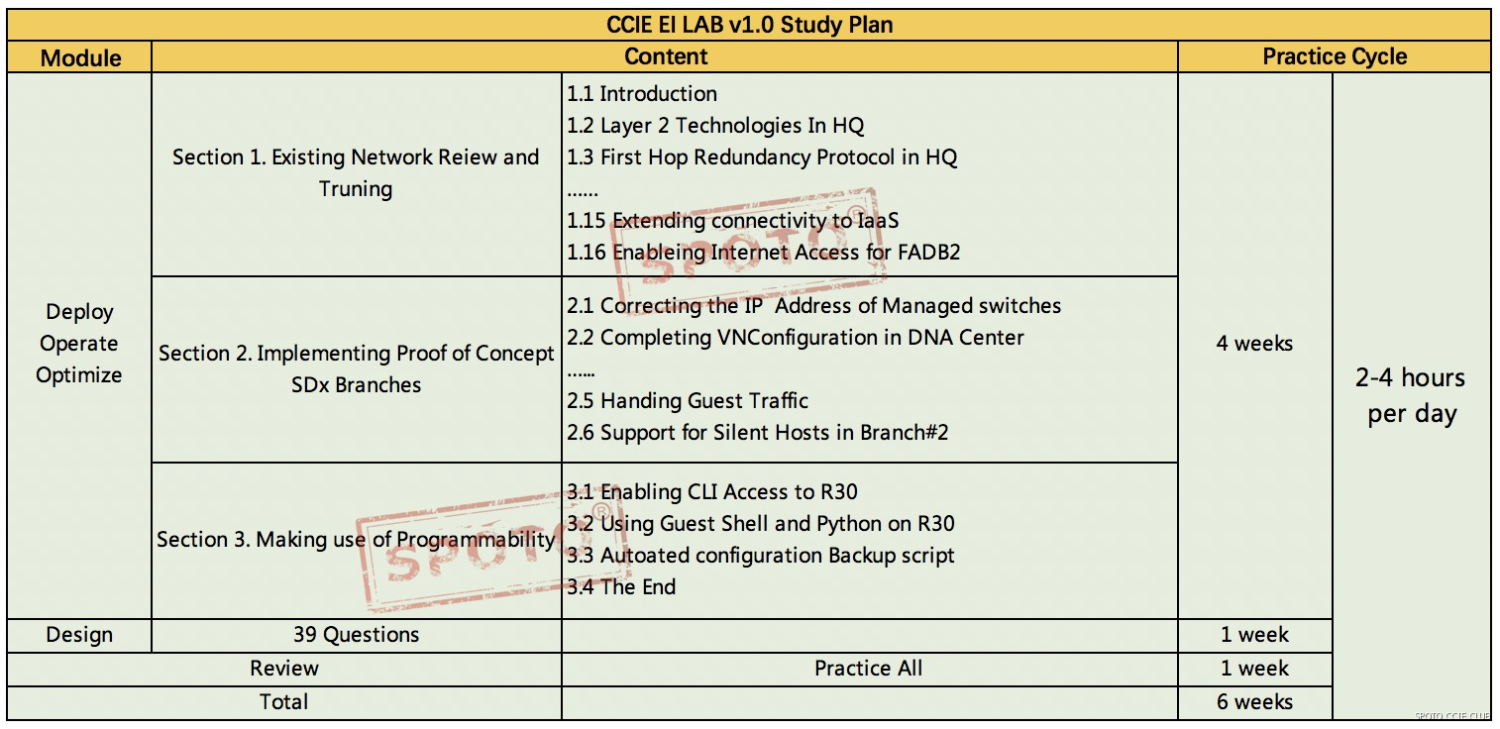 This is CCIE EI LAB v1.0study plan
If you can spend 2-4 hours on lab practice per day, you can take exam after 1.5 months.
we provide 3 months service time, thus you will have enough time to practice, so you can follow your timetable, it is flexible.
Rack Service: offer rack to practice, the rack includes IOS, init configuration, etc.
Study Materials: Workbook, Solutions, Instruction Video, Study Plan.
We delivered the materials stage by stage:
stage 1:Section 1 & Section 2
stage 2:Section 2
stage 3:Section 4 & Section 5
FAQs
Q1. What about the CCIE Enterprise Infrastructure lab Recertification?
CCIE Enterprise Infrastructure certification is valid for three years.
Q2. How abut the requirements of CCIE Enterprise Infrastructure exam?
First, You have mastered all topics in CCNA and CCNP R&S. There are no formal prerequisites for CCIE Enterprise Infrastructure, but you should have a thorough understanding of the exam topics before taking the exam.CCIE candidates are recommended to have five to seven years of experience with designing, deploying, operating and optimizing enterprise networking technologies and solutions prior to taking the exam.
Q3.How often are the questions updated?
We always try to provide the latest pool of questions, Updates in the questions depend on the changes in actual pool of questions by different vendors. As soon as we know about the change in the CCIE enterprise lab exam question pool, we try our best to update the products as fast as possible.
Q4. How to prepare for the exam?
SPOTO's tutors will setup the study timetable in accordance with your condition. We will give you the best service and offer professional teams to help your study.
Q5. How to pass the exam?
Step 1: Pass the qualifying exam CCNP ENCOR350-401
Step 2: Purchase SPOTO's dumps and pass the lab exam
Q6. Why should I pass the CCIE EI LAB exam?
Preparing for the CCIE enterprise infrastructure lab would be in demand so much of your time as well as effort. However, everything is going to be well-compensated when you would be beginning to reap the fruits of your labor once you would have obtained your certification.
Here are the benefits that you will enjoy:
Job security
Nowadays, the job that you would be possessing today might become irrelevant in the upcoming few years. Learning a new skill that would be in demand for the distant future is going to assure you that you would never be jobless because you could qualify for emerging jobs of the future. Obtaining certification would be increasing your job prospect despite the change.
Promotion
With your expertise, you would most likely be obtaining a key role in organizations or companies that would be utilizing the Cisco System. Your expertise would be able to help you out in being promoted to a senior position in the company.
International recognition
Cisco System is utilized by a myriad of companies as well as organizations worldwide. With your Cisco certification, you could search for a job in any country of your choice.
High Salary
One of the most important perks of clearing the CCIE EI lab exam would be enjoying a high salary. Your certification could bring you an average annual salary of about $120,000. This would be around 20% to 25% higher than what your uncertified colleagues would be receiving.
SPOTO's Advantages
SPOTO's Advantages
If you would be planning to acquire the CCIE EI Lab Certification in the very first attempt, you must join SPOTO for learning with ease!
SPOTO CCIE EI lab service is all set. We would be offering an exam plan, one-on-one online support, and instruction video as well as completing the rack for your practice!
If you would be working full time, time might the number one constraint in your plan to take the CCIE EI lab exam. You would require rent a lab or making your own for preparing for the practical exam. Passing the test on your first attempt would help you out in saving lots of time and money.
Let SPOTO help you out in passing the CCIE EI lab exam at a rapid pace. Get the SPOTO CCIE enterprise infrastructure lab dumps, which would be consisting of the updated and latest questions for practice.
17 Years of IT Training Experience
SPOTO is a brilliant leader in IT training experience for 17 years. We have helped thousands of candidates from the world to pass their exams in first try. We have gained many likes for our candidates.
7/24 Technical Support
SPOTO has many professional tutors who have more many years tutorial training experience. They have aided thousands of candidates passing their exam in the first try. What's more, professionals will provide 7/24 technical support only you join us!
Latest Exam Solutions
SPOTO will update the exam solutions at the fastest speed. Our professionals will spare no efforts to resolve the solutions. What's more, our solutions cover all exam answers and questions, and 100% real exam practice tests.
chat_bubble_outlineReviews