How to Meet the Cisco Next-Level Certification Challenge?
access_time2020-01-09
perm_identity
Posted by
spoto
Today we are talking about Cisco's changes in the system next year. Of course, some of the previous system changes have already been elaborated, and there is not much description here.
Students who don't know yet can check out this article:  http://bit.ly/2ZmkV3l and you can know more details about the changes in the Cisco system.
1.Changes in the Technical System
Let's Start with Cisco's official outline changes.
The biggest change for Cisco next year is CCNA. Except for the development direction, there is only one direction left, so it integrates a lot of other knowledge points.
As you can see from the outline: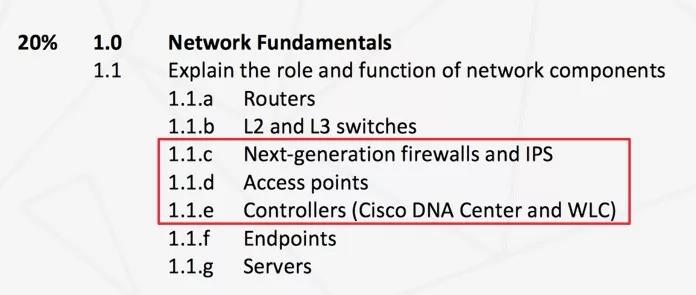 Like next-generation firewalls and IPS, this belongs to the content of the security; As for AP and AC, this is the contents of the wireless; there are also DNA campus networks, terminal devices and so on.


There are many related changes in the wireless. Added automation and programming will involve programming languages, API operations, etc.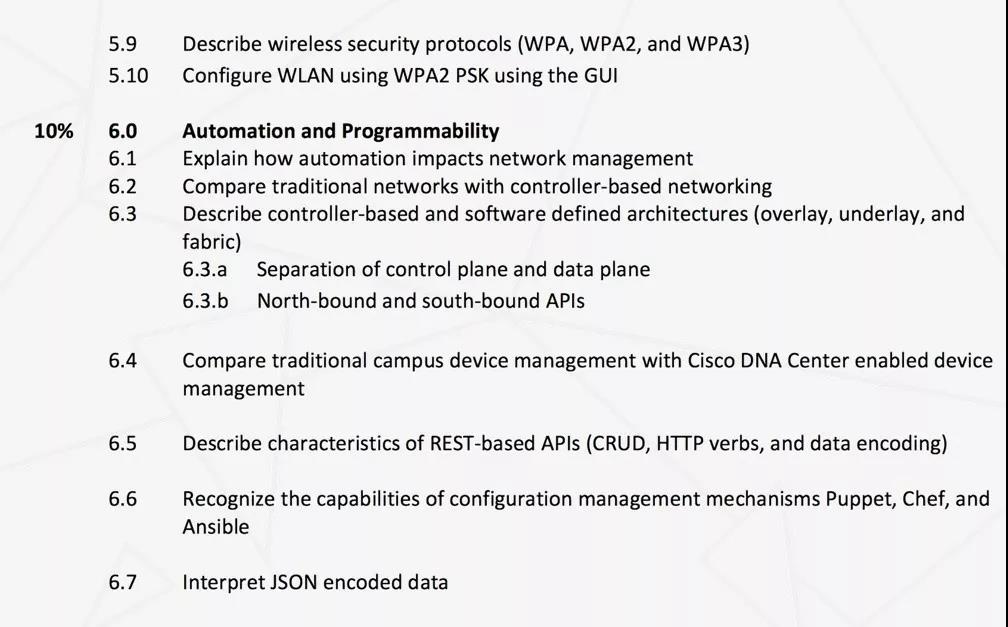 Besides CCNA,the CCNP and CCIE written exam are integrated into one exam, which is a huge change.
I will take the old CCIE RS, namely the new EI, for an example: 
New Ipv4 and IPv6 dual-stack architecture, namely Ipv4 and IPv6 are enabled together; and there are some new virtualization, cloud computing content; infrastructure, routers, and switches; network security and network security; automation, which contains valuable knowledge points corresponding wireless
There are many huge changes in the CCIE Lab:
software-defined access, software-defined WAN, automation, network programming, etc. are all routine operations. In other directions, security/DC/collaboration/operators have fully upgraded the outline. In general, Cisco's overall CCIE strategy is to move closer to the DNA campus network and automated programming.
Solutions
So how should we deal with such a big change? Should I study now or study again next year? Is the current technology worth learning? Is EI next year much better than the current RS?
Here I personally provide 2 solutions:
The first solution:
First of all, the reason why many people want to study next year is that they consider that they are too late to learn. It is not right to learn this in such a short period of time. For example, you told me that you have no basic knowledge, and have not learned the network before, as well as even do not understand the concept of the network, then can you learn before the next year?
Of course! Generally, if you have no basic knowledge of CCIE, and you can study all study materials on an average of 7 months. If you have learned the CCNA, and you are going to learn CCNP. You will need to take some 2-3 months. You just learn CCIE theory for one month and prepare for the lab in 3 months. All process requires some 6 months.
And now there are still about 8 months from the change. Although the 0-based students are relatively tight in time, there is still adequate time to learn.
If you have the basics of NP theory,  and the duration of the study is about 4 months, which will take place in October-November. You don't have to wait for EI new certification.
Then the question is coming again, why not recommend that you wait for the new EI certification.
The first reason is that the exam is now ready to go.
By the end of next year, EI new certification has just come out, including a new certification system and a new knowledge framework.
After we get the hand, we need to solve the problem, test the stability, and then open the practice. This process is at least 2 months; plus the time you practice, at least 1 month.
In other words, if you want to get a new certification, you should take the exam until May 2020.
And if you start learning now, especially those who are already preparing for NA, NP, and IE, you can basically pass CCIE before 2020, or the end of December 2019.
Moreover, the goal is to win an NP, even NA, it is even simpler.
The network engineer industry is ultimately an industry that relies on experience to eat. The leading experience is not a new certificate that can be easily surpassed.
The new EI will wait until May next year. In the gap period of about 10 months, it is enough for you to rely on the current RS CCIE to accumulate some capital in the workplace, and the sooner you accumulate the advantage.
Are this 10 months waiting to see, do nothing?
Secondly, next year's EI is also called enterprise infrastructure, which is applied to the new enterprise network, but after all, it is still the enterprise network. Now many things of routing and exchange can still be used, but there are more new technologies, this part of new The content is also completely ready to go to school.
By the time you are at the same starting line, but the lead is not only the knowledge of routing exchange. Furthermore, some people are worried about learning the current RS and then learning the new EI next year. This does not have to worry about it. As we said before, we have delayed the study of the force majeure factors for the students, so the promised service period is generally more than three times the planned duration. For example, although we have customized the 6-month study plan for you in CCIE course, our service period is 18 months!
If you learn smoothly and pass once, then there is still 12 months of the service period.
This is the eve of the change, this service period is enough for you to complete the new EI course.
The second solution to take the new EI certification
This change in Cisco is a good thing for everyone. Because technology always develops forward, you can learn the latest technology of this era and the enterprise needs of evolving enterprises. This is undoubtedly a great thing for individuals.
At the same time, automation and development are involved in every direction. The original simple implementation delivery engineers have the opportunity to move to higher level design and development!
Whether it's technology improvement or salary increase, you can match more professional needs while mastering new skills, and it will be easier to find a job.
In this context, it is undoubtedly a good choice to wait until the new certification system is stable and re-learning.
Conclusion
As a 16-year IT online training university, our lifeline is our dumps and corresponding services.
In the past days, we have constantly updated our dumps and constantly precipitated our talent training system. SPOTO is a trusted IT training institute in the world.